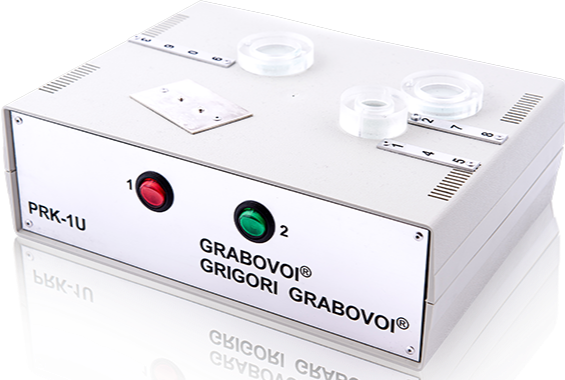 ---
MARCH 25, 2023
6 PM - 8 PM CENTRAL EUROPEAN TIME
FREE WEBINAR ABOUT 
PRK-1U
PRK-1U is a unique device created by Grigori Grabovoi, a world-renowned scientist and clairvoyant. It is based on his patents, "Method for Prevention of Catastrophies and Device for its Realization" and "Information-Carrying System".
The presenter: Marina Morozkina
The interpreter: Dmitry Tikhomirov
What is PRK-1U for?
The use of the PRK-1U device with individual settings allows you to develop your consciousness more effectively, understand the teaching of Grigori Grabovoi deeper and get results faster*.
During the webinar, you will get to do a few concentrations on different remote PRK-1U devices. We will discuss the basics of using the device and three different types of contracts for the use of the individually configured PRK-1U. 
Please email us at

This email address is being protected from spambots. You need JavaScript enabled to view it.

to get the Zoom link for the webinar.
*Individual results are not guaranteed and may vary.
---
25 МАРТА 2023 ГОДА
20:00-22:00 МСК
НА РУССКОМ И АНГЛИЙСКОМ
БЕСПЛАТНЫЙ ВЕБИНАР О 
ПРК-1У
ПРК-1У - это не имеющий аналогов прибор, созданный Григорием Грабовым, всемирно известным ученым и ясновидящим. Прибор ПРК-1У создан в соответствии с патентами Григория Грабового «Способ предотвращения катастроф и устройство для его осуществления» и «Система передачи информации».
Вебинар ведет: Марина Морозкина
Переводчик: Дмитрий Тихомиров
Зачем нужен ПРК-1У?
Использование прибора ПРК-1У с индивидуальными настройками позволяет более эффективно развивать сознание, глубже понимать учение Григория Грабового и быстрее получать результаты*.
Во время вебинара у вас будет возможность провести несколько концентраций на разных удаленных приборах ПРК-1У. Также мы обсудим основы использования прибора и три варианта контрактов на использование прибора ПРК-1У с индивидуальными настройками.
Пожалуйста, напишите нам на почту

This email address is being protected from spambots. You need JavaScript enabled to view it.

, чтобы получить Зум ссылку для входа на вебинар.
*Индивидуальные результаты не гарантированы и могут варьироваться.